Effective Data Transmission
ELCOMPLUS
SmartPTT File Transfer is a freeware application to transfer files through the radio channel based on MOTOTRBO radios. SmartPTT File Transfer was specifically designed for effective data transmission taking into account the limitations of the connection provided by MOTOTRBO.
It consists of 2 modules: a Client Application which transfers the selected files to the server PC and a Server Application which accepts the files sent from the client. The MOTOTRBO radio must be connected to the server computer via USB.
Key Benefits
Designed for effective data transmission taking into account the limitations of the connection provided by MOTOTRBO.
Easy to install, lightweight application and immediately available to download.
Free of charge.
Key Features
Transfer speed 1150 Bit/s.
Automatic transfer recovery.
List of clients allowed to transfer to the server.
System Requirements And Types
Radio Hardware/Releases Compatibility:

MOTOTRBO radio with firmware 1.08.32 or higher.

Computer Hardware/Operating Systems.

PC, Windows XP/Server 2008/Vista/Windows 7, 1Hz x86 Pentium 4, 512 Mb RAM, 10 Mb HDD.

Interfaces:
Compatible with IP Site Connect 2.0 and above.
Industries
Fire and Emergency Medical Services, Hospitality, National Government Security, Police, Transportation & Logistics, Utilities.
Application Partner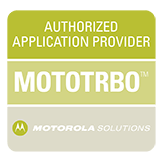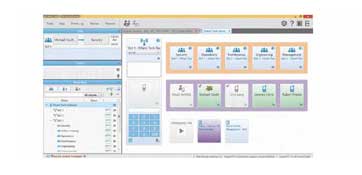 SmartPTT Basic
Integrated Solution For MOTOTRBO
SmartPTT Basic is a software application for integrated control of MOTOTRBO systems. SmartPTT Basic is used for small or middle-sized radio systems with a limited range of features: Few radio subscribers (about 50 subscribers), Telephone interconnect is of marginal significance, and Simplex frequency is available or a specific site territory doesn't allow a communication channel for direct connection of a repeater to a radio server.
Teldio
Teldio™ is a premier two-way radio applications developer founded in early 2008. Their primary focus lies around voice and data application development for Motorola Solutions' digital MOTOTRBO™ radio networks. The software increases worker productivity and helps ensure greater employee safety and security. Teldio solutions are scalable and designed to help customers link their radio networks to existing third-party infrastructure.
The portfolio includes cost-effective radio to telephony communication, Radio-to-Radio Recording, Alarm Management and Notification, Lone Worker Monitoring, Man-Down Notifier and Indoor & Outdoor Positioning Solutions.
The portfolio includes: Alarm Control System (ACS), Centralized Lone Worker (CLW), Radio To Radio Recording (R2R), Indoor & Outdoor Real-Time Location Solution (RTLS), Man Down Notifier (MDN), RBX Telephone Interconnect