Last-minute changes in cargo. Unscheduled package pick-ups. Unexpected delays on the road. Your customers depend on receiving freight at the right place at the right time, without fail. Keeping your mobile workforce connected is essential to meeting these demands and protecting them on the road. How do you keep your people in contact while keeping them safe, wherever they travel? With a system that provides instant dispatch and reliable communication to manage your fleet, no matter where they go. A system so efficient and easy to use, it can improve customer service and reduce operating costs.
United States Distracted Driver Law

Respond Instantly To Safety Issues
Better-connected drivers are safer drivers. Push-to-talk two-way radios are not subject to the tight regulation governing cell phones, because they are intrinsically easy to operate – and therefore less of a distraction to drivers. So they can form the essential communication link that keeps drivers safely in touch. Drivers can avoid trouble spots, alert the office instantly if there are problems, and deal with text messages, via text-to-speech, without taking their eyes off the road. Priority voice and data communications can cut through routine transmissions to call for help in an emergency.
Integrated Bluetooth® connections avoid trailing wires and allow hands-free operation. Remote vehicle status monitoring allows fleet management teams back at the office to see if doors are open or an airbag has been deployed. Radios deliver the audio quality, coverage, battery life and built-in intelligence that help users to work confidently and safely.
Risk can be reduced
Downtime and delays can be avoided
Regulatory compliance can be maintained
Solutions
Fleet Management And Delivery Operations
Ensure the smooth flow of finished goods into the hands of your customers with access to real-time data and always-on communications. Our communication solutions help you optimize your vehicles to service the supply chain and ultimately, your customers. Applications that track vehicles and shipments enable more on-time and accurate deliveries, all while improving safety and complying with regulatory requirements. Drivers are safer, costs are lower, and customers are satisfied. Meet your deadlines safely and efficiently and exceed expectations with communication solutions adapted to your needs.
Warehouse And Distribution
When you connect every worker, you streamline and automate your processes, better manage risk and respond to customers quickly. From the line to the loading dock, our multi-purpose two-way radios, accessories, and industry-leading applications ensure teams can communicate clearly and reliably. Business-critical applications are designed to streamline production and distribution in noisy, fast-paced environments. You can run warehouse operations safely and seamlessly while meeting the most demanding deadlines with a communication solution adapted to your needs.
Workplace Safety And Security
Improve the safety of your entire workforce and enhance security at your facility with the right communication solutions for you. Worker safety is your number one concern. Stay connected with real-time visibility into what your drivers are doing and where they are on the road. Motorola's communication solutions give you the ability to link your locations and people, giving them immediate access to critical data. Keep your workers safe and your facilities secure.
Components
Two-Way Radios
Motorola Solutions' commercial radios and accessories are designed for the unique demands of the retail environment. Working with retailers around the country, Motorola developed communication solutions that enable you to deliver a flawless experience for your customers. Motorola Solutions' radios are engineered for optimal comfort, performance and image at an affordable price. They're small, lightweight and easy to use, with long-lasting batteries and flexible ways to wear. Clear, strong audio overcomes background noise, so every word is heard.
Portability meets personality in Motorola Solutions' devices, too. Sleek and stylish, they are ideal for professional attire and store image, but so durable they withstand daily abuse. Flexible carry and charging options and diverse accessories, including wireless and discreet earpieces, fit the way staff work and interact with customers.
Motorola Analog Radios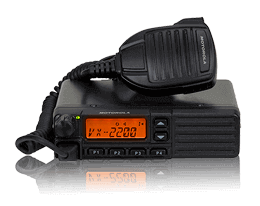 Motorola Solutions' analog two-way radios deliver the essential capabilities your team needs and the value you demand. They also provide things you might not expect, such as dedicated, licensed communication and a wider coverage area. So whether your people are on the job site or out in the field they can communicate more effectively and work more efficiently. All without breaking your budget.
Motorola Analog Portable Radios
Motorola Digital Radios
Digital Makes Two-Way Radio Communications Better
Better Call Quality
Audio – Digital applies error correction to eliminate noise and static and preserves voice quality over a greater range so users can hear what is being said crisp and clear. Use of the AMBE+2™ vocoder further improves speech transmission quality in noisy environments while achieving spectrum efficiency.
Coverage – Digital enables users to make more calls to more places. A digital signal stays strong and clear until it reaches its maximum range. There is no deterioration in the signal, providing greater usable range in areas where two-way communication was not possible in the past.
Better Call Management
Control – A common desire amongst analog radio users is to control who receives a message and avoid broadcasting messages to a wide group of listeners. Digital makes this possible with unique IDs assigned to each radio. A user can selectively call specific individuals or groups by selecting the radio ID(s) to direct a message only to those who need the information.
Digital Radio Benefits
Range – Intelligible speech over a longer distance.
Quality – Crisp and clear, even in fringe coverage areas.
Capacity – Twice the capacity of analog radio in the same channel.
Talk-Time – Up to 40% longer battery life than analog radio.
Features – Increased opportunity for innovation.
Motorola Digital Portable Radios
Motorola Digital Mobile Radios
MOTOTRBOTM
Motorola understands the realities of logistics and delivery, and constantly innovates communication solutions that respond to your challenges. The clear, reliable audio and advanced data capabilities of the MOTOTRBO XPR Series keep your personnel productive and safely connected over a wider area, on the road or in the warehouse, without interference or distracting static.
Personnel and fleet tracking applications help you keep track of people and locations. You can receive status updates with real-time data applications and be instantly alerted to unresponsive workers. And if an emergency occurs, priority voice and data communications will get through with the Digital Emergency and Transmit Interrupt features on XPR Series radios.
Hands-free accessories with integrated Bluetooth® let your vehicle operators communicate without distractions or wires in the way. The long range wireless mobile microphone enables them to step away from the vehicle up to 100 meters and stay connected.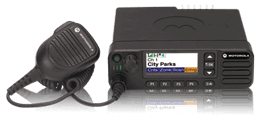 DMR (MOTOTRBO) Radios
The MOTOTRBO two-way radio portfolio offers you a wide choice of devices, from simple voice-only models to feature-rich voice and data radios. All work together seamlessly to deliver advanced features to enhance your safety, productivity and efficiency.
Learn more about DMR (MOTOTRBO) Radios
MOTOTRBO Systems
No matter how large or small your enterprise, MOTOTRBO offers a wide range of systems specifically designed for your business – for the days ahead and the years beyond. You get the best of two-way radio with digital technology and enjoy integrated voice and data communication, increased capacity, enhanced features and exceptional voice quality, across the city and around the globe.
Learn more about MOTOTRBO Systems
MOTOTRBO Applications
Benefit from solutions designed to fit your needs and strategies to be more productive, more efficient and more effective. Find the application to meet your specific needs and take your communications to the next level.
Learn more about MOTOTRBO Applications
MOTOTRBO Accessories
MOTOTRBO radios are already best in class, but to help you work at your best, you need enhancements targeted to your specific workplace. Motorola developed a line of accessories with unique features designed to optimize the performance of your radio in your work environment, unleashing the full power of the industry's most advanced digital radio platform. From discreet Bluetooth earpieces to efficient battery solutions, Motorola's complete portfolio of accessories optimizes the performance of your MOTOTRBO radio. They are designed to help you perform your best, wherever you work, and unleash the power of the industry's most advanced digital radio platform.
Learn more about MOTOTRBO Accessories
Wave PTX Work Group Communications

Collaborate Seamlessly As A Team
Every extra delivery you make in a working day sharpens your competitive edge. Consignments arrive at exactly the right moment and service becomes a competitive advantage. Smart analytics and closer collaboration – person-to-person, machine-to-machine – allow real-time inventory management and process automation. Operations-critical data applications, such as work order ticket management, track orders, help your managers confirm deliveries and keep tabs on workflows to pinpoint problems before they place delivery at risk. Deadlines can be met consistently and errors can be eliminated, making fleets can be more reliable. Team Communications also extends your reach further with WAVE's broadband PTT applications, allowing you to notify personnel of last-minute, even outside of the MOTOTRBO radio network. With access from any network and on any device – such as a smartphone or tablet – workers can always be connected wherever they have a broadband connection.
By integrating voice and data into a single Team Communications solution, your workers can collaborate more efficiently wherever they are. Key features like over-the-air radio programming and battery management help ensure radios work overtime and don't sit in the shop. And with privacy options and remote disable, you can confidently provide team communication capabilities that are secure.
WAVE PTX App
WAVE PTX App is a Push-to-Talk (PTT) service that connects phones, computers and radios together — all while making the most of your existing resources, systems and investments. Because it lives in the cloud, WAVE PTX App is inherently cost-effective.
Move People And Cargo Safely And Efficiently With Seamless Communications
There's never been a better time to bring Unified Communications to help streamline operations, control costs and delight customers. Have one of our representatives contact you for a complimentary analysis of your communications needs.
Useful Resources and Downloads
Application Briefs/Fact Sheets
Brochures and Spec Sheets
MOTOTRBO
MOTOTRBO Accessories
WAVE Work Group Communications
Case Studies
eBook
Presentations
Videos
White Papers
MOTOTRBO
Team Communications
WAVE Work Group Communications